CLYDE, DEVON'S CHE

E

KIEST BULL TERRIER
Click here to edit subtitle
Sadly many bull terriers end up in welfare due  partly to irresponsible breeding and partly to do with the unsuitability of the breed for some people. Bullies in Need do an amazing job rehoming and fostering bullies all over the country.
, check out the bullies in need website.
Copied from Bullies In Need Website
*This is the story of Paddy (now known as Archie).  Please be aware that some of his initial pictures are quite distressing.
Earlier this year I received an email from Wood Green Animal Shelter in Godmanchester near Cambridge, they had taken in a male Bull Terrier who had been found dumped on the side of a very busy dual carriageway, how he had survived that ordeal alone no-one knew.  He was in a terrible terrible state.  He was totally emaciated, his eyes were sunken in his head, he was dehydrated and had the most hideous pressure sores on his legs from being kept, presumably, on a hard surface with little or no bedding, and from the holes burned into his legs presumably too in his own urine. He was covered in lumps and bumps and his skin was in an awful state.  He was so thin in fact that he could not walk and was close to death. 
FROM HELL TO HEAVEN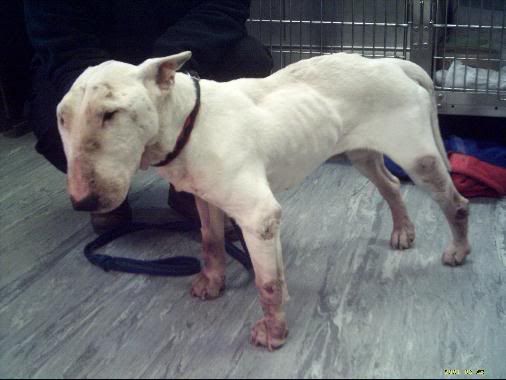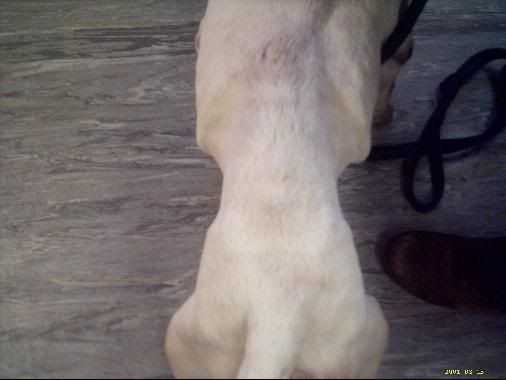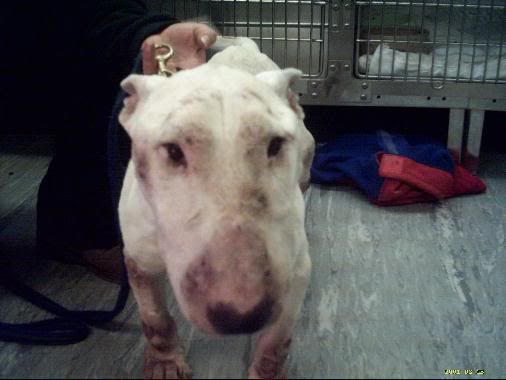 He was hospitalised and spent several days on a drip, the staff were not sure that he would make it.  He had plenty of visitors to keep his spirits up but each time people saw him they were in tears as he was such a pitiful sight.  They sent me a picture of Paddy and I have to say I burst into tears too....he was one of the worst cruelty cases I had ever seen.  I said one of us would be there to collect Paddy the very day he was well enough to be transferred to one of our foster homes.  Thankfully he rallied enough a few days later and he was carefully transported across to Milton Keynes and was settled into his foster home.  He was still on treatment of course and had drops for his eyes to help the ulceration on one of them heal - due to them being sunken and rubbing on his inner eyelid!
He was very worried those first few days and rather bewildered, but he was soon spending the afternoon on the sofa with his foster dad, watching afternoon TV and eating whatever he liked....carrots and biscuits were a favourite for some reason!  He did have a few toiletting accidents in the house and one day when he had wet in the living room his foster dad came back in (only from the kitchen) to find Paddy sitting in the corner of the room cowering and shaking....one can only imagine the punishments he had received for this in his past life, poor little boy.  His foster dad found this particularly upsetting to see as he never told Paddy off for doing anything and just ignored any mess and cleared it out the way.  As the days went by and Paddy grew a little stronger each day he started to play in the garden and started to get some energy back.  He even tried the occasional hump of his foster dad's leg - we knew then definitely that he was feeling much better, bless him!!
Around this time I received a questionnaire from a very nice couple who had previously lost their beloved bullie and, although still grieving from his loss, they felt they wanted to offer a home to another needy bullie.  They sounded as though they had love, time and patience to give in abundance and I set about contacting them.  Many many phone calls later and a date was set for them to meet Paddy.  Of course on meeting Paddy their hearts went out to him - whose wouldn't.  Here was a little dog who had been severely abused by someone but who still had a wonderful temperament and was loved by all who met him (in fact the girls at the rescue centre said he was the loveliest most sweetest patient they had ever had!).  This was Paddy at their visit..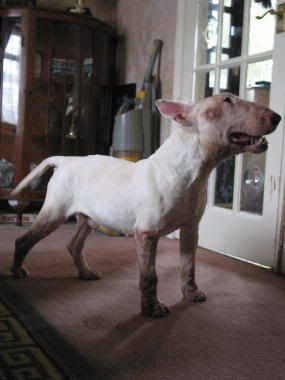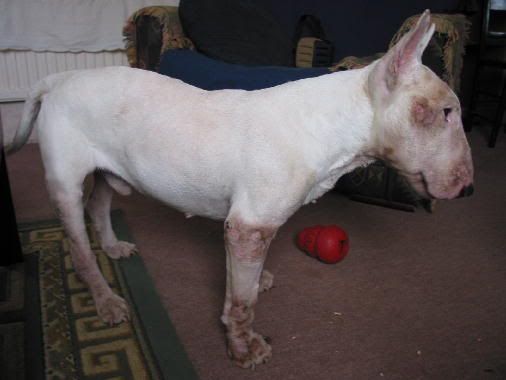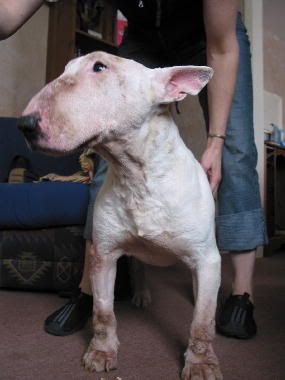 After several more phone calls, a successful homecheck, more phone calls and a consultation with Paddy's vet, it was decided that Paddy would be better moved to his new forever home sooner rather than later so that he could bond with his new owners as he was recovering.  There was the danger that should he stay with his foster dad too long through these difficult times when a lot of TLC was needed the bond would become too strong to break and would cause Paddy more heartache when he was to go to his forever home. Of course his new parents were very very keen to get him home (more than I can tell you) and we spoke every day to keep them up-to-date with his progress. 
Finally the day came when Paddy was well enough to go home!!  His proud new parents collected him and drove him, very carefully, on to his new life.  Paddy didn't know it of course but he was going to have a fantastic new life with people who totally adored him. Once home they changed his name to Archie, a new name for a new start.  His new dad is able to be with him all day and they gad about together here and there and are constant companions.  He is cuddled and kissed and reassured with every new experience that comes his way. Every single meal he has is cooked from scratch with only the freshest ingredients, he also has his own wood to explore which is set in about 3 and half acres of enclosed garden - what a lucky boy!!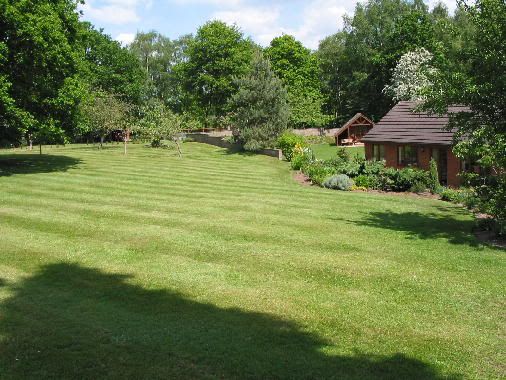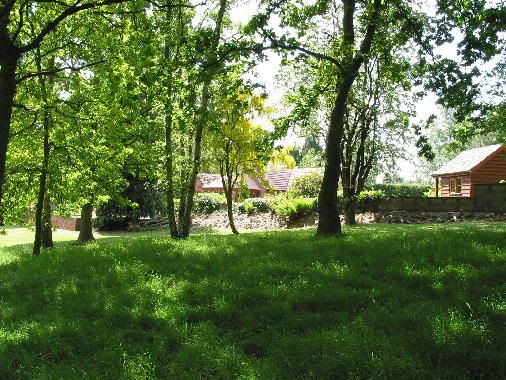 We obviously kept in touch on an almost daily basis after he went just to make sure everything was going OK, which of course it was....better than OK in fact...more like brilliant!
This is part of a letter we received from his new parents about a week after they took him.....
"Can`t tell you how special he is, he's absolutely wonderful. Since he joined us here we`ve not been separated, we`re never more than a couple of feet apart.

He`s eating well, he's enjoying a high protein diet, chicken and fish and he loves brassicas, especially broccoli.  Always has his Weetabix with soya milk, hardly any dairy products at the moment dressed with fresh fruit, the first of several pieces a day, again loves bananas and pears.  Midmorning we share toast and Marmite, he then has fish and biscuit for dinner.

When we visit the village bakery the ladies always give him a slice of carrot cake which he loves in the afternoon, he doesn`t like tea though so again he has that with a little soya.

Evening meal can be almost anything, baked potato mashed with a little cheese and chicken, perhaps bolognaise although we reduce the sauce and serve with a little biscuit, he enjoys home made soup with toast and shepherds pie is a firm favourite.

He has a strange habit of rubbing his nose after food, really quite aggressively causing the wounds on his head and nose to re-open. To counter this we read the point at which he`s just about to rub, open the fridge door and give him a soya yoghurt. The strategy is proving a success, his focus now is the fridge door rather than rubbing...we still get the impression he`s somehow duped us though!!

The idea of several small portions rather than one or two large meals appears to be working, the need to monitor is weight is important.  The urge to feed needs to be offset with care for his joints which are still weak and inflamed, too much too soon is a very dangerous urge.
Enough of us, we cannot thank you enough for your advice at Crufts (Di), you were spot on in everything you said, it`s impossible to replace the friend that you`ve loved and lost, but to avoid embracing new and fresh hope is plain daft.

Coming to terms with that is the hardest step, also falling into line. When we first saw Archie/Paddy all we knew was that he needed care and protection and we wanted him here, all the rest was an obstacle to that goal, the waiting, homecheck etc was just red tape, only in the light of day is it possible to appreciate the value of these precautions.

Meeting Graham who dropped by to give us our homecheck was a genuine pleasure, not only is he a nice guy he gave us a valuable insight into not only the upside of re-homing but also the flip side, an issue that, even after living with Bull Terriers for 20 odd years caused us concern. How do you come to terms with an aggressive dog? Is having to make that ultimate call failure or simply facing facts, and how would either of us feel if the other was injured?

Following the homecheck a visit to Cathy was arranged to meet Archie/Paddy and again to be inspected ourselves. Praise just isn't enough for the work she and Andy are doing as well as living with three bullies of their own, how she finds time we just couldn't guess,

Archie at the time was being cared for by Cattle's brother who unfortunately we didn't meet but would like to thank for the time and care he spent in the days following Arch's release from the Animal Rescue centre.

One week after that meeting Archie came to live with us.  The process from the point when we saw the first heartbreaking photographs of a frail and abused Archie until he joined us here took two weeks. A rollercoaster ride of emotions and decision / indecision, questions, emails and phonecalls. Tears of sadness and happiness, anger and frustration but if asked, we would do it all again and more.

Finally Jo, what can you say? Ours was just one special BT, how she copes with multiples on a daily basis is truly amazing.  Yes, she`s a bully and a tyrant with a harness fetish but she's the top of our Christmas card list.

Thank you so much Jo.

Sorry to ramble on but we really wanted to say thank you to everyone who helped along the way.
Second letter....a fortnight later....
"He is getting stronger and fussier by the day, yesterday morning his usual breakfast of honey and nut weetabix (with soya milk) - although granted without sliced banana, was greeted with that familiar Bull Terrier look of "what's this you have given me?" followed by that slow, insulted saunter back to his basket.

His recent visit to his dermatologist has produced amazing results, the lesions and sore bare patches are clearing by the day and his hair regeneration is incredible. His ear infection seems to have cleared and as soon as he is off his skin medication, we will pay a visit to the Morton clinic for an eye check.

Everyday brings new and fantastic experiences for us all, it's almost like he is recalling a previous life. We may be wrong but it appears that he once lived in a happy and comfortable home and then an intermediate period when he was perhaps sold or stolen which resulted in the terrible state in which he was found. It's this previous time he seems to be recalling, opening doors, climbing on beds, lying in the sun and being able to do things without being scalded or abused. It's a fantastic time for all of us.

He now weighs in at 53lbs and his joints are getting stronger day by day, although he will probably always be plagued by inflammation, but cod liver oil capsules and diet would appear to be doing the trick. One of the lovely things are the people that you meet when out, either in the street or pet stores, he comes everywhere with us and recently whilst at our local plant auction he literally drew a crowd, and people are so nice and he responds to them. When you consider the awful things that people have inflicted upon him, its incredible that he would want to see anyone again.

We could go on for pages and pages but will cut it short to say once again thank you very much for caring and sharing.

love
Al, Jules & Archie"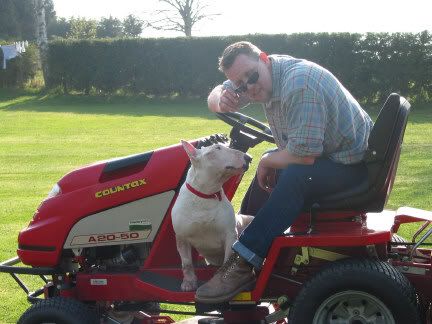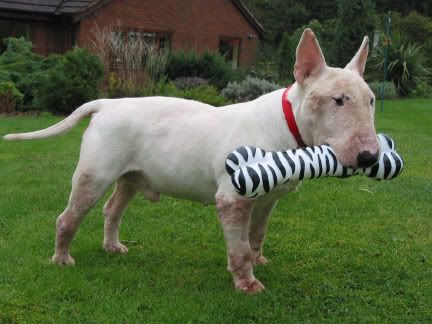 Bone soon buried...!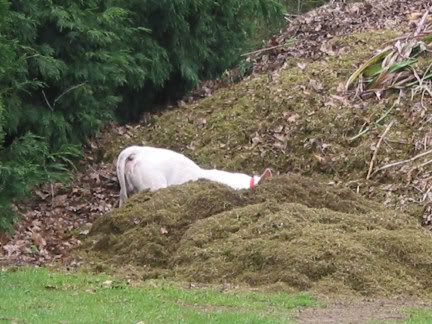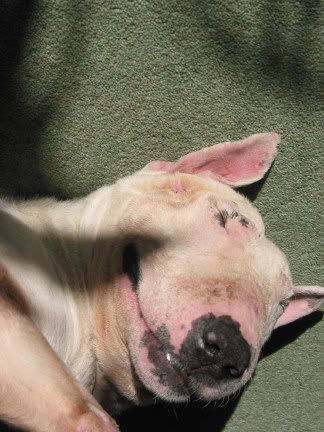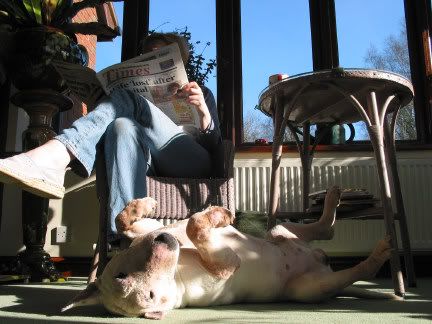 As you can see Archie is making a miraculously recovery with the huge amounts of TLC given by Al and Jules.....we cannot thank them enough for taking Archie on and providing him with everything he needs, and more, both emotionally and physically.  We could not have found a better home for him if we had looked for a 100 years!!
Here are some more piccies of Archie for you to enjoy....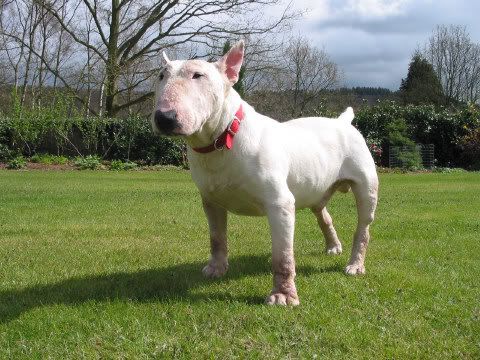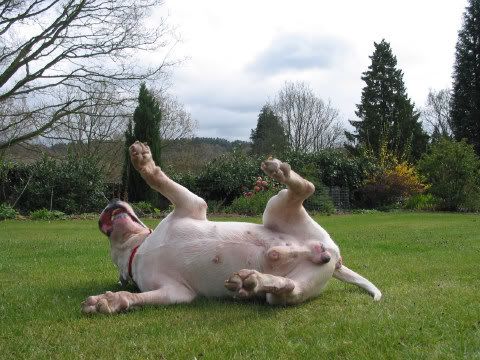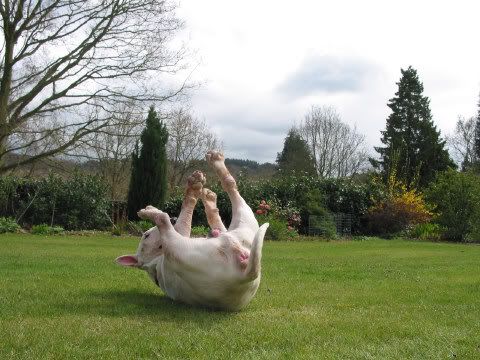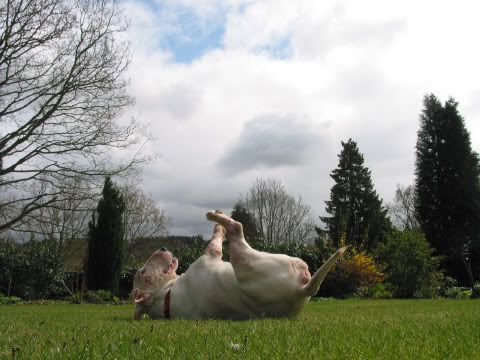 One of my favourites...a picture of sheer bliss...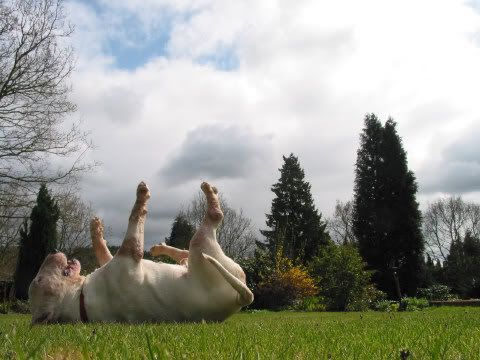 These were taken very recently (May 2005)...some have been taken at his local garden centre where he is a firm favourite with everyone - he's on first name terms with all the staff and gets a treat every time he goes.  Today he chose a new wheel barrow - see how he proud he is....!! He'll have his dad working with that in no time!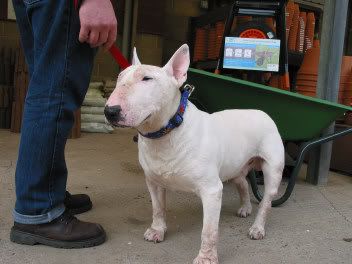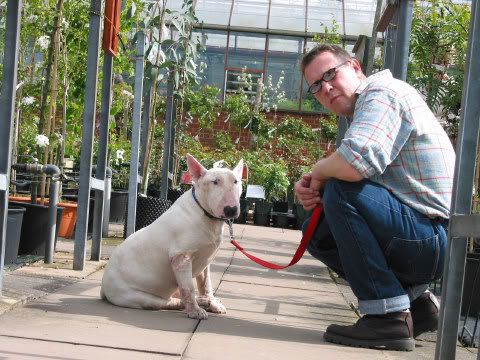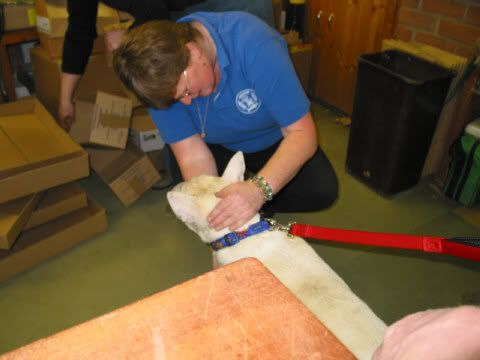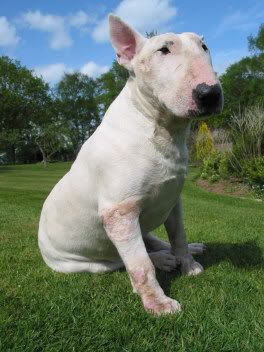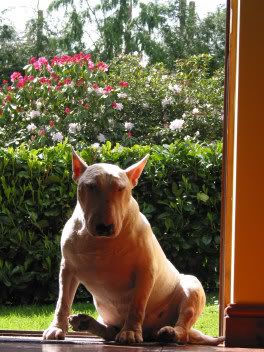 And finally, for now,......here he is having a damn good roll to finish off the day!!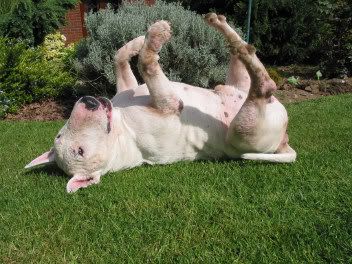 We hope that you have enjoyed reading about Archie (after the initial horrible beginning) - his is a real rags-to-riches to story and we are so proud of him and what he has overcome.  We hope to update his story as time goes by so everyone can share in his happiness.
No doubt you will now want to go and kiss and cuddle your own bullie, if you have one, and thank their lucky stars that they ended up with you and not in the wicked hellhole that Archie has previously lived in.  Thankfully Archie will now be safe and happy for the rest of his life but please remember those less fortunate than our own - there are many many more out there to be saved......let's hope we can save them together.
Jo, Ann, Cathy and all our fantastic volunteers at B.I.N.
(in Archie's case namely Aimee, Di, Cathy's brother and Graham)